Hanken & SSE and Epiqus received gold award for Integration Program Business Lead at award ceremony in Lausanne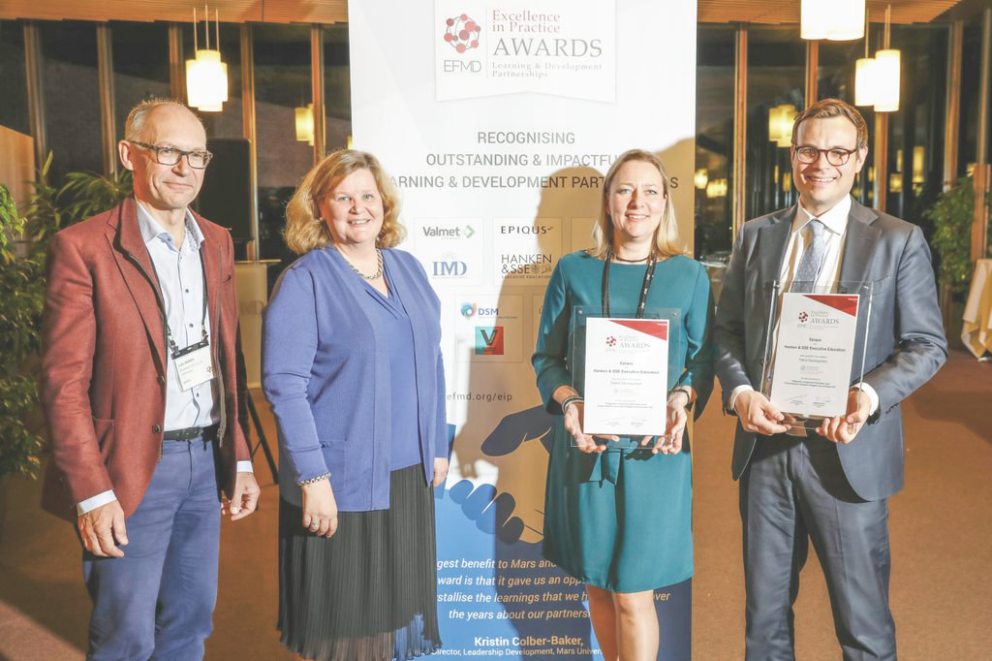 The partnership between Hanken & SSE Executive Education and social impact bond fund manager Epiqus Oy received the European Foundation for Management Development (EFMD) gold award in the category Talent Development for the integration program Business Lead.
The EFMD Excellence in Practice (EiP) Award 2018 winners were presented and awarded during the EFMD Executive Development Conference 17-18 October 2018 in Lausanne, Switzerland, hosted by IMD in partnership with Richemont.
Since 2011, the EFMD Excellence in Practice Awards (EiP) has recognised outstanding and impactful learning & development partnerships in the domains of leadership, professional, talent, organisational and ecosystem development. The winners are selected based on the review of 4 key areas: a documented challenge, an effective partnering commitment, the appropriate L&D initiative and a proven business impact.
"We sincerely appreciate the recognition that the Integration Program Business Lead and our partnership with Epiqus received through this award. The case was received very well and we look forward to continue the discussions we started at the event on how to scale the program globally", says Marc Hinnenberg, CEO of Hanken & SSE Executive Education.
The integration program Business Lead® is created and run by Hanken & SSE and it combines education, mentorship and internship work and is a fast-track for unemployed educated immigrants and refugees into business life. The full award-winning Business Lead case can be found here.
Learn more about the EFMD Excellence in Practice Award.

About Epiqus Integration Social Impact Bond (SIB)
Integration SIB (Kotouttamisen SIB) is a Social Impact Bond (SIB) that provides fast-track integration training and employment for immigrants and refugees seeking international protection in Finland. It is commissioned by the Ministry of Economic Affairs and Employment. Impact evaluation is conducted as a Randomized Control Trial and measured through differences in tax collections and unemployment benefit payments between control and target groups. Integration SIB is the largest Social Impact Bond in Europe, and a qualifying social entrepreneurship fund under the EuSEF regulations. The pioneering Integration SIB is a joint project with Epiqus, Ministry of Economic Affairs and Employment of Finland, FIM, TE-Services, Sitra and other service providers. More information: http://www.epiqus.com/funds.html
Contact us for
more information