Russian business
Lead Russia
Next programme starts
November 2020
Module Location
Saint Petersburg
Programme type
Organisational development, Personal development
Programme overview
The Lead Russia programme is tailored to support increased efficiency and profitability of international companies active in Russia.
The Lead Russia programme is aimed at companies who:
- Consider Russia a long-term opportunity
- Aim to continuously develop their leadership
- Understand the benefit of looking for fresh ideas and new approaches in the complex Russian market
- Recognise and reward selected talents
- Understand the strategic priority for streamlining operations and improved financial prudence
Programme content & structure
Lead Russia is a leadership programme for top level managers, executed in a consortium of 5-8 different non-competing companies.

The program consists of 2 live learning modules and 3 virtual learning modules. It is structured over 5 months with 2 months between live modules.

The language used is Russian with an option of English.
Who the programme is for
The programme is for management team members or high potential talents at Russian (CIS) units.
We strongly recommend that at least two participants per company take part in order to achieve the best business impact of the programme.
Benefits & value
Novel ideas for streamlining the business operations
Boosting sales and improving profitability
Benchmarking fresh ideas
Growth opportunities
Enhanced understanding and prudence in finance and financial leverages in the present economic situation
Spill-over effects into the organisation through "go to team" and change initiative
Personal development and increased company loyalty
Programme Director
Peter Zashev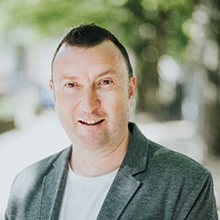 Peter Zashev is a Programme Director at Hanken & SSE Executive Education and an Adjunct Professor at the Saint Petersburg State University in Russia.
Peter has more than 15 years of experience in executive education as a trainer and programme director. Peter also has considerable experience as an international consultant working on projects for the private (international business strategy and marketing) and the public sector (international projects with UNCTAD, the EU and GIZ). Peter's interests and areas of expertise include international business & entrepreneurship, emerging markets, leadership, change management, business and cross-cultural communications.
His cross-cultural skills are enhanced by the fact that Peter was born in Bulgaria, lived and has business interests in Russia, works in Finland and lives in Estonia. Peter speaks Bulgarian, English, Finnish and Russian.
Contact us for
more information